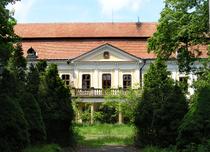 At the end of February 1821, in one of the Viennese apartments, servants tried to cull thousands of maps and prints from the piles of debris. Their first attempt was a failure, which must have had their employer, the naturalised Moravian nobleman Baron Friedrich Sigmund Vockel, concerned enormously. The collection of maps inherited from his grandfather was to be moved from his sister's apartment prior to St. George's Day, otherwise it would have been sold as waste paper.
Vockel's grandfather, Bernhard Paul Moll, had died more than 40 years earlier and his family had not succeeded, even after repeated attempts, to sell the collection. Fridrich's siblings therefore consented that he could proceed with it as he likes. Paramount for them was removing it from the flat before the planned move. Vockel, although married to Moravia only at the turn of the century, had been a member of an energetic Moravian- Silesian Patriotic and Economic Society for the Advancement of Agriculture, Science and Art, an association of late Enlightenment intellectuals formed predominantly by Moravian nobility, bureaucrats and the first industrialists, for years. This society stood in 1817 at the beginnings of the Francis Museum in Brno, personal contribution to its development being, for Moravian patriots, a matter of personal honour. Frederick Sigismund Vockel decided to donate a collection of maps and vedute inherited from his grandfather.
At first this generous gift then lay without significant interest from anyone at the premises of the Augustinian Monastery in Old Brno, then in the Francis Museum building. When separation of the library from the museum took place, the collection was transferred to the State Library, as the archive didn't display any interest in it. Ironically, this age-old marginalisation ensured the collection a unique position not only in Central Europe. Today it presents an unparalleled example of late Baroque and early Enlightenment collecting, preserved nearly intact. The collection did not significantly expand over the years, nor were larger groups of maps transferred elsewhere (except perhaps some of the maps of Moravia). Therefore, it retains the original structure given to it by Bernhard Paul Moll himself.
Most likely still in the first half of the 19th century, a card catalogue was created for the collection, based on the original manuscript mapography. At the end of the 1950s an inventory of maps and vedute contained in the collection was published in book form. At the beginning of the second Millennium the collection was newly catalogued and made available using the online catalogue of the Moravská zemská knihovna (Moravian State Library). Subsequently, it was digitised and made available to the public via this site thanks to generous funding from the Europeana Travel program.